Slow Food
For years I've tried to find a way to combine my passion for the environment, culture, growing, cooking, and eating healthy food, writing, and beekeeping--a strange combo, I know. I wasn't sure exactly what my cause was until I heard about the Slow Food movement. Once I learned more about the Slow Food cause, I felt like my seemingly disparate passions had finally found a happy home. In 1989, Carlo Petrini, an Italian, founded the Slow Food movement to "counteract fast food and fast life, the disappearance of local food traditions and people's dwindling interest in the food they eat, where it comes from, how it tastes and how our food choices affect the rest of the world."
And I super like this last line:
"
Slow Food brings together pleasure and responsibility, and makes them inseparable."
Ah...leave it to Italians to combine pleasure
and
responsibility.
Che miracolo!
I don't know where I got my fabulous guilty conscience from, but I've spent most of my life feeling guilty for pleasure, as if the only meaningful thing I could do was be responsible for everything and everyone, instead of actually having a bit of fun. After six months in Italy and other life adventures, I'm over feeling guilty for my culinary pleasures. But I still want to give back somehow, by spreading the word that eating delicious, beautiful, and nurturing food is not only good for you, but good for our planet. That's why the Tasty Buzz is all about yummy food, but also about food activism, bees and beekeeping, and other ways to take that love we all have for food and make our lives more sustainable and nourishing for all. Check out the Slow Food Website here:
www.slowfood.com
If you're in the U.S., join your local chapter here: http://www.slowfoodusa.org/index.php/local_chapters/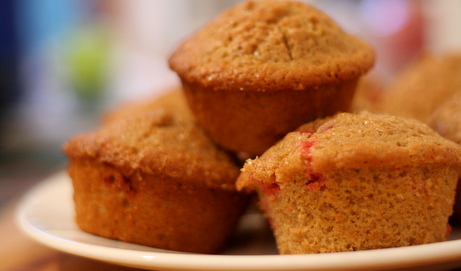 No, that's not a typo in the title. Allow me to explain. There are no such things as muffins in Italy. I keep asking around: "Hey--do you guys know what muffins are?" And they do, but only as some distant creation formed in strange tins in the United States. "What do you call them?" I asked my boyfriend one Sunday, as I prepared a batch of muffins for his virgin experience. "We call them muffin," Guido replied. "But what do you call them in plural? When there's more than one?" "Muffin," he said, laughing. "But that's ridiculous," I said. "If you're going to use the American word, then you should have a plural form." I thought for a moment about Italian grammar. Since most foreign words like "film" and "computer" are masculine by default, "muffin" must also be masculine. This means it should have the "o" ending when singular and the "i" ending when plural--if it were a normal word. "From now on," I said, "we'll call them...Muffini." And thus, amidst a storm of laughter, Muffini were born. Though I'm not celiac, I'm definitely sensitive to wheat and sometimes gluten altogether, depending on the day. So I was so excited to find spelt flour in our nearby health food store which usually doesn't bother me. I searched high and low for a simple spelt recipe that didn't call for ten million, hard to find ingredients like yogurt and applesauce, and found the base for this one here, on the King Arthur Flour website. I'm not against complicated recipes, I just don't always have the ingredients in my fridge, and I'm also starting to like the Italian philosophy of keeping it simple. Muffins are a favorite for me because they're easy to make and very tasty with a little fruit added. I'm a big berry fan; I love the burst of tartness surrounded by sweet, warm muffini-ness. But you could probably substitute some other fruit if you adjust the recipe a bit. These would also be fabulous with a half cup of walnuts or, even better, pecans...mmm... Red Currant Spelt Muffini Servings: 12 to 14 muffins Ingredients (in order of appearance): 2-1/4 (280 g) cups spelt flour (farro in Italy, or you can also use whole wheat) 1 Tbs baking powder 1/2 tsp salt 3/4 cup (150 g) cane sugar (or white) 1/2 tsp ground cinnamon 1/4 tsp ground nutmeg 3 eggs, beaten 1 Tbs vegetable oil or melted butter 1 tsp vanilla extract or vanilla powder (if you add powder, mix it with the dry ingredients) 1-1/4 cups (300 ml) milk G-Spot Ingredient: 1 Tbs of grated orange rind (the rind of one large orange) 1 cup (150g) red currants* 1/2 cup walnuts or pecans (optional) Optional but yummers!: A little sugar to sprinkle on top of each muffin, right before you put them in the oven *Note: Halved raspberries, white currants, or gooseberries are excellent substitutes, as are blueberries or halved blackberries. But if you use a sweeter berry, cut the sugar down to 1/2 cup or 100g). If you use wet or frozen berries, I highly suggest you coat them with a little flour, which helps them stay in the mixture without sinking to the bottom of the pan. Preheat your oven to 425°F (220 C). Grease...
read more